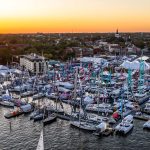 Annapolis Sailboat Show Fall 2023
September 8, 2023
Meet Youtuber OffTheHook!
PORTABOTE YOUTUBER OFFTHEHOOK!

In the world of fishing, there are those who simply cast their lines into the water and hope for the best, and then there are those like Kendrick, who turn their passion into a thrilling adventure.
Kendrick, a journeyman angler with a taste for exploration, takes his fishing game to the next level with a foldable boat made by PortaBote. Join us as we dive into the world of this intrepid angler and his incredible fishing journeys.
Meet Kendrick
Off The Hook Fishing, also known as @OffTheHookFishing on YouTube, is not your average angler. He's a journeyman fisherman who has made fishing an art form. With a zest for adventure and an insatiable love for the great outdoors, Kendrick travels far and wide to seek out the best fishing spots, all while making use of a remarkable tool – his PortaBote.
The PortaBote Advantage
What sets Kendrick apart from the crowd is his trusty foldable boat from PortaBote. This innovative watercraft is perfect for adventurers like him. Why? Because it's portable, durable, and incredibly versatile.
PortaBote boats are constructed using high-grade polyethylene, making them sturdy yet lightweight. They are designed to fold down to a compact size, allowing anglers like Kendrick to easily transport them to remote fishing locations. Whether it's a hidden lake in the wilderness or a quiet river far from civilization, Kendrick's PortaBote ensures he can get there and back with ease.
Unleashing the Adventure
Kendrick's YouTube channel is a treasure trove for fishing enthusiasts and adventure seekers alike. With his trusty PortaBote in tow, he takes viewers on breathtaking journeys to some of the most picturesque and unexplored fishing destinations. From serene mountain lakes to winding mangrove-lined rivers, Kendrick casts his line where few have gone before.
But it's not just about the stunning scenery; it's also about the thrill of the catch. Kendrick's fishing expeditions are a captivating blend of strategy, skill, and the excitement of reeling in some truly impressive catches. Whether it's a trophy bass, a giant catfish, or a feisty salmon, Kendrick never fails to deliver heart-pounding action.
Educational Content
Beyond the adventure and adrenaline, Kendrick provides valuable insights and tips for fellow anglers. His videos are not only entertaining but also educational. He shares his knowledge about different fishing techniques, gear reviews, and even cooking recipes for preparing the day's catch.
Kendrick's journeyman spirit and his trusty PortaBote have combined to create a captivating and inspiring fishing adventure that keeps viewers hooked episode after episode. If you're an angler looking to take your fishing game to new heights or simply an adventure enthusiast yearning for breathtaking vistas and heart-pounding catches, @OffTheHookFishing on YouTube is a channel you don't want to miss. Join Kendrick on his extraordinary expeditions, and you just might discover the ultimate angler's paradise.
Please visit offthehook! youtube channel for more awesome content!