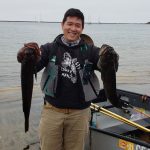 Meet Portabote Youtuber OffTheHook!
September 9, 2023
ANNAPOLIS SAILBOATS SHOW
October 12-15, 2023
As the leaves start to change and the cool breeze of autumn sweeps in, sailors from all over the world converge on the charming city of Annapolis, Maryland.
Why? Because it's time for the Annapolis Sailboat Show Fall 2023, one of the most anticipated events in the sailing community. This year, sailing enthusiasts have something extra special to look forward to - PortaBote as a vendor at the show!
Setting Sail for Adventure: The Annapolis Sailboat Show
The Annapolis Sailboat Show, held annually in the historic city's picturesque harbor, is a celebration of all things sailing. It's where boat enthusiasts, experienced sailors, and novices alike come together to explore the latest sailboat designs, marine equipment, and innovations that make life on the water smoother and more enjoyable.
This year's event, taking place from October 12th to October 15th, promises to be as exhilarating as ever. Attendees can look forward to viewing an impressive fleet of sailboats, discovering cutting-edge marine technology, and engaging with fellow sailors who share a deep passion for life on the water.
An Exciting Addition: PortaBote as a Vendor
One of the standout features of this year's Annapolis Sailboat Show is the presence of PortaBote as a vendor. PortaBote, renowned for its innovative, foldable, and portable boats, is making its mark in the sailing world with its range of products designed to enhance your on-water experience.
For those unfamiliar with PortaBote, these boats are not your typical vessels. They are lightweight, incredibly durable, and uniquely foldable, making them perfect for sailors who crave convenience and efficiency without compromising on performance.
The PortaBote Advantage: Why You Should Check Them Out
Compact Design: PortaBotes are known for their patented folding design. When not in use, they can be folded down to a fraction of their size, making them easy to store on your sailboat or transport in your car.
Durability: Constructed from high-impact polypropylene, PortaBotes are designed to withstand the harshest marine environments. They are resistant to UV rays, saltwater, and corrosion, ensuring a long lifespan.
Performance:: Despite their portability, PortaBotes are known for their excellent stability, tracking, and handling. You can expect a smooth and reliable sailing experience.
Versatility: Whether you're fishing, exploring, or simply enjoying a leisurely day on the water, PortaBote offers a versatile solution for various activities. Attach a small outboard motor, or paddle your way through serene waters.
What to Expect at the PortaBote Booth
Visitors to the Annapolis Sailboat Show can look forward to an immersive experience at the PortaBote booth.
Here's what you can expect:
Product Demonstrations:: Learn how easy it is to set up and fold down a PortaBote. Witness its durability and versatility in action.
Expert Advice: Speak with PortaBote representatives who can answer your questions, offer personalized recommendations, and provide insights into how PortaBote can enhance your sailing adventures.
Exclusive Show Offers: :Take advantage of special promotions and discounts available exclusively at the event.
Set Sail for Annapolis Sailboat Show Fall 2023
The Annapolis Sailboat Show Fall 2023 promises to be an unforgettable experience for sailing enthusiasts, and the presence of PortaBote as a vendor adds an exciting element to the event. Whether you're a seasoned sailor or new to the world of boating, PortaBote's innovative and portable boats are sure to capture your imagination.
So, mark your calendars for October 12th to October 15th, and set sail for Annapolis. Explore the latest sailboat designs, discover cutting-edge marine technology, and make sure to visit the PortaBote booth to see how they can revolutionize your on-water adventures. It's time to embark on a new chapter of sailing with PortaBote as your trusted companion. Fair winds and smooth sailing!
FOR MORE INFORMATION:
Please visit https://annapolisboatshows.com/sailboat-show/