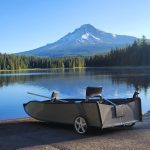 The PortaBote Fan Club: Where Boaters Unite!
November 8, 2023
2024 Sacramento International Sportsmen's Expo
SACRAMENTO INTERNATIONAL SPORTSMEN'S EXPO
January 18-21, 2024
Are you ready for an unforgettable adventure on the water in 2024?
Well, mark your calendars because PortaBote is making waves at the upcoming Sacramento International Sportsmen's Expo, happening from January 18th to 21st, 2024! This is your chance to witness the innovation and versatility of PortaBote up close and personal.
Discover PortaBote's Ingenious Design
At the Expo, you'll get an exclusive look at PortaBote's revolutionary foldable boat design. This portable boat, known for its durability and convenience, has captured the hearts of outdoor enthusiasts and anglers around the world. Whether you're an experienced fisherman or a nature lover seeking new horizons, PortaBote offers an unparalleled boating experience that's easy to transport and set up.
Meet the PortaBote Team
Don't miss out on our exclusive Expo offers! We'll have special discounts and promotions available for those who visit our booth during the event. It's the perfect opportunity to invest in a PortaBote and embark on a journey of exploration and excitement.
Exclusive Expo Offers
One of the standout features of this year's Annapolis Sailboat Show is the presence of PortaBote as a vendor. PortaBote, renowned for its innovative, foldable, and portable boats, is making its mark in the sailing world with its range of products designed to enhance your on-water experience.
Join Us at the Expo
The Sacramento International Sportsmen's Expo is a must-attend event for outdoor enthusiasts, and PortaBote is thrilled to be a part of it. Whether you're an angler, camper, or adventurer, our portable boats are the perfect companion for your outdoor endeavors. Visit our booth at the Expo, see our boats in action, and learn why PortaBote is the ultimate choice for those who crave the freedom of the open water.
Get ready to make 2024 your year of adventure and exploration with PortaBote. Join us at the Sacramento International Sportsmen's Expo from January 18th to 21st, 2024, and discover the endless possibilities our Portabote offers. We can't wait to share our passion for outdoor adventure with you and help you set sail on a journey of a lifetime! See you there!
FOR MORE INFORMATION:
Please visit Sacramento International Sportsmen's Expo